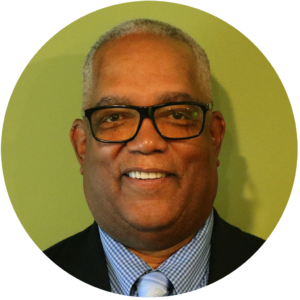 My name is Pastor Jonathan Combs I have been married to Debra for 31 years. We have 6 adult children; a blessed blended family. God called me to pastoral ministry in 2006. My journey started at Herrick Chapel during the ordination service at Adrian College. I attended Ecumenical Seminary while working at Ford Motor Company. I also attended Methodist Theological Seminary of Ohio and I am now pursuing a master's degree at Garrett Evangelical Seminary School in Chicago. I believe that social justice, feeding the hungry, friending the poor, visiting the sick and providing hope are essential principles derived from the gospels. I believe all people are welcomed into the presence of God. Ephesians 4:1-6 reminds us that we are one with Christ.
My favorite subject is Wesleyan theology. Wesley's thoughts on social justice are just important now as they were in Wesley's time. I enjoy Bible studies, baptism, communion, time with family, golf, vacationing, and time with children, youth, and young adults.
My name is Lindsey Morencie, I am the Children's Director and have been involved with this department for over 4 years now. I love having the opportunity to work with the kids, further their relationship with God, and create a lot of fun with them! We love to craft, dance, play games, and make memories. I want the kids to leave knowing CHURCH IS FUN! 
Marketing and Administrative Coordinator
My name is Elaine Hooton and I grew up as a pastor's kid. I have loved God since I was four years old and have been an ordained minister. I have been married to Chris for 20 years and we have two children, Ella (20) and Foster (18). I am the Marketing and Administrative Coordinator here at DownRiver Church. I enjoy crafting, watching tv with my family and hanging out with our four cats, Neo, Meadow, Yuki, and Clementine.
Tim is a musician and producer.